Interested in Exhibiting
July 13-14, 2023
Interested in Exhibiting?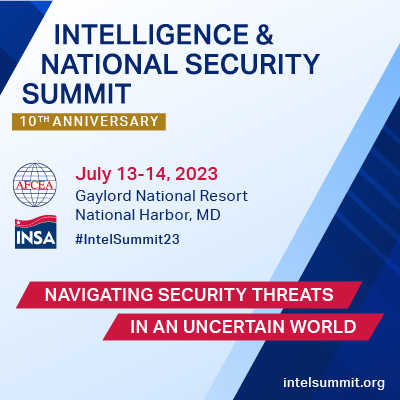 The Premier Intelligence Event of the Year
The 2023 Summit is expected to attract over 1,500 intelligence and national security leaders from the public and private sectors, media, think tanks, and academia. This two-day unclassified event will focus on the nation's most critical national security challenges and opportunities including strategic threats and national collection priorities, recruiting and retaining a talented workforce, combating disinformation, cyber supply chain risk management, IC innovation and technology priorities...and so much more.
View the Prospectus
.
Contact UsFor more information, or to become an exhibitor, please contact Diane Dodson or Erin Ong at ddodson@eventPower.com or eong@eventPower.com

Be part of the Intelligence & National Security Summit! Join us as an exhibitor and present your products, services and solutions to key players in the intelligence community. Attendees are looking for the latest technologies in the following fields:


3D Printing
5G
Advanced Analytics
Additive Manufacturing
Artificial Intelligence/Machine Learning
Big Data Collection
Biotechnology
Cloud Computing
Cyber Tools
Cybersecurity
Data Analytics
Data Science
Encryption
Geospatial
Hypersonics
Identity Management
Information Security
Insider Threat
Internet of Things
Microelectronic Solutions
Mobile/Cellular Solutions
Natural Language Processing
Quantum Computing
Robotics
Sensor Technology
Software Supply Chain Security
Space Situational Awareness
Special Communications
Supply Chain Assurance
UAP


And other game-changing technologies!

Past Summit Attendees
Past attendees of the Summit have included:
Account Executives
Business Development Executives
Capture Managers
Chief Executive Officers
Chief Technology Officers
Chief Operating Officers
Chief Information Officers
Chief Information Security Officers
Cyber Network Analyst
Cyber Security Engineers
Cyber Security Analysts
Data Architects and Scientists
Program Executive Directors, Deputy Directors, Directors and Managers
Engineers
Executive and Senior Vice Presidents
Founders and Co-Founders
Intelligence Analysts, Officers, and Specialists
Information Technology Specialists
Investigators
Lead Scientists
National Security Researchers and Consultants
Professors
Program Analysts
Research Engineers, Scientists, Associates
Sales Managers
Security Analysts and Specialists