Interested in Sponsoring
July 13-14, 2023
Interested in Sponsoring?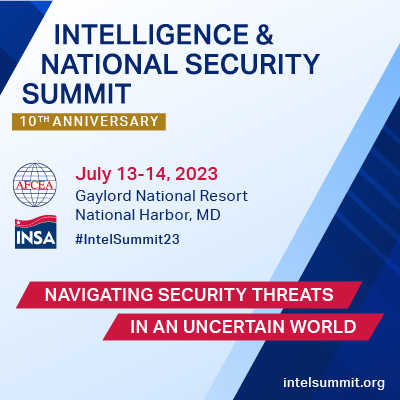 Secure your sponsorship at the premier intelligence and national security event of the year
The 2023 Summit is expected to attract over 1,500 intelligence and national security leaders from industry, government, media, think tanks, and academia. This two-day unclassified event will focus on the nation's most critical national security challenges and opportunities, with discussions concerning the effectiveness, transparency and accountability of our intelligence and national security communities.
View the Prospectus
.
Contact Us
For more information, or to become a sponsor, please contact Diane Dodson or Erin Ong at
ddodson@eventPower.com
or
eong@eventPower.com
.
It's time to think Outside the Booth!
Sponsorships offer the perfect opportunity to connect with our audience of government, industry and academic thought leaders. Opportunities to extend your brand reach are available to fit any budget. Hurry! Sponsorship packages go quickly.
View the Prospectus
.

Who Attends?
Past attendees have included representatives from a variety of public, private and academic organizations, including:
Adobe Systems Federal
Amazon Web Services
American University
American Military University
Accenture
Advanced Onion Inc
American Military University
Applied Research Laboratory - Penn State University
BAE Systems
Ball Aerospace
Boeing
Booz Allen Hamilton
CACI International
CenturyLink
CGI Federal
CISCO
CIA
DIA
Defense One
Dell Technologies
Deloitte
Department of Energy
Department of Homeland Security
Department of Defense
Department of Justice
Department of Commerce
Eastern Kentucky University
Engility
Financial Crimes Enforcement Network
FireEye Inc
Florida International University
Fortinet
Fulcrum
Government Accountability Office
Government Matters TV
General Dynamics IT
George Mason University
Georgetown University
Harris Corporation
Hexagon US Federal
IBM
Jacobs
Johns Hopkins University
KeyW
KPMG
L3 Technologies
Leidos
LMI
Lockheed Martin
ManTech
Micro Focus
Microsoft Azure
MITRE
NSA
NGA
NRO
National Security Council
Noblis
Northrop Grumman
Office of the Director of National Intelligence
Oracle
Palo Alto Networks
Peraton
Perspecta
RAND Corporation
Raytheon
SAIC
SAP NS2
Sinet
Spadaro & Associates
Splunk
Thomson Reuters Special Services, LLC
Transunion
U.S. Air Force
U.S. Army
U.S. Marines
U.S. Navy
U.S. Space Force
Verizon
VMware