A Summit for the Record Books!
Thank you to the nearly 2,000 attendees, exhibitors, sponsors and speakers for helping make #IntelSumit23 an overwhelming success!
The powerful, two-day program featured five blockbuster plenaries, six engaging breakout sessions, and a jampacked exhibit hall full of the latest IC technology innovations.
Watch session recordings
.
View Event Photos
.
Stay tuned! 2024 dates to be announced soon!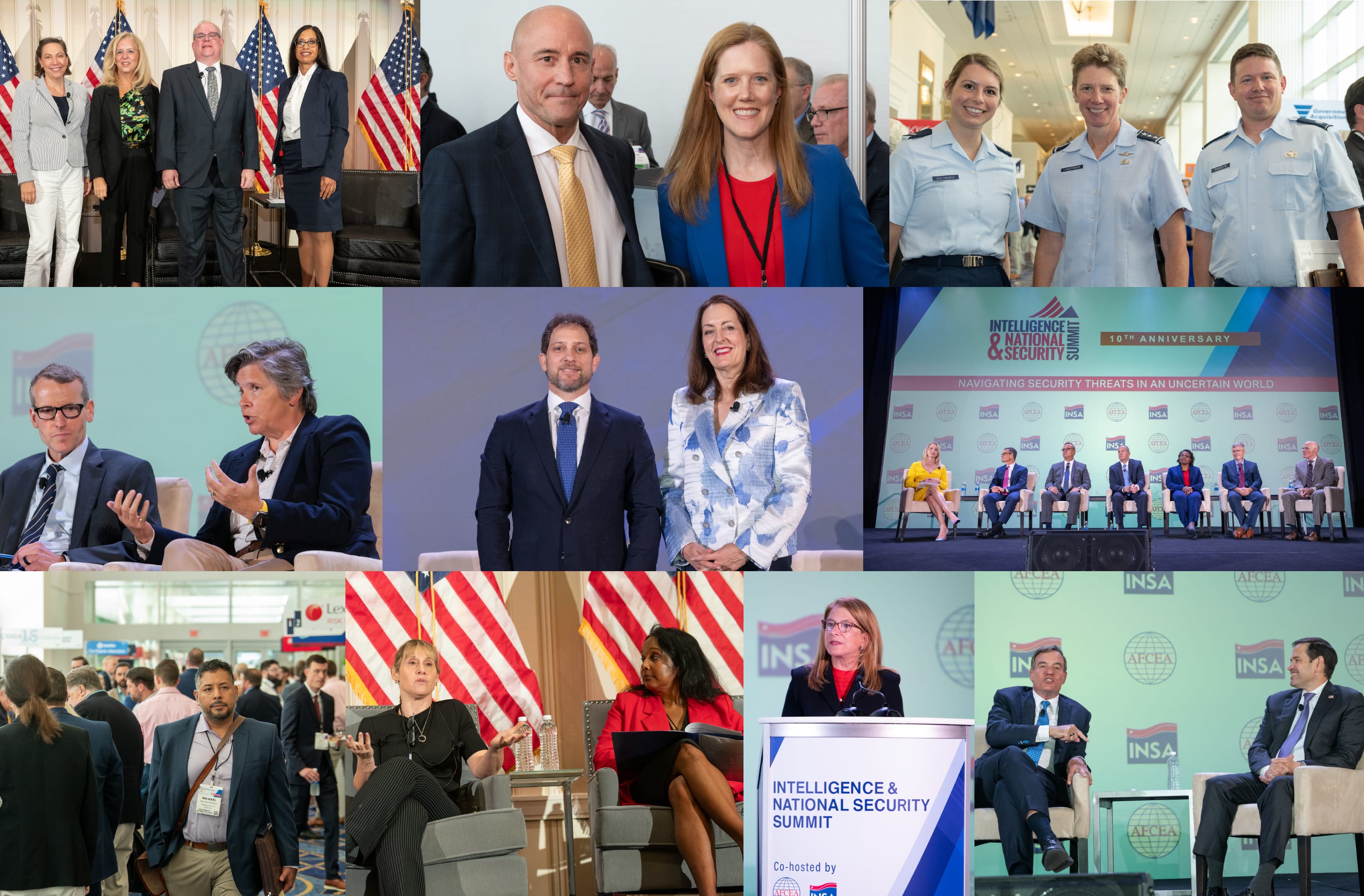 Thank You to Our 2023 Sponsors
2023 Confirmed Speakers

Paul Abbate
Deputy Director
Federal Bureau of Investigation

Brad Ahlskog
Chief, Open Source Intelligence Integration Center
DIA

LTG Robert "Bob" Ashley, Jr., USA (Ret.)
Chief Executive Officer
Ashley Global Leadership & Security (LLC)

George Barnes
Deputy Director
National Security Agency
Nathan Beauchamp-Mustafaga
Policy Researcher, Professor of Policy Analysis
Pardee RAND Graduate School

Dr. Patrick Biltgen
Principal
Booz Allen Hamilton

Scott Bray
Deputy Director of Naval Intelligence and Director, Naval Intelligence Activity
US Navy
Gian Luca Capovin
Team Manager
Janes

David Cohen
Deputy Director
Central Intelligence Agency

Dr. Jared Dunnmon
Senior Advisor for Strategic Initiatives
Defense Innovation Unit (DIU)

Charles Edel
Senior Adviser and Australia Chair
Center for Strategic & International Studies (CSIS)

Dennis Eger
Senior Open Source Intelligence (OSINT) Advisor Defense Intelligence Senior Level (DISL)
U.S. Army
Dr. Evelyn Farkas
Executive Director
McCain Institute
Jon Finer
Deputy National Security Advisor of the United States
Executive Office of the President

Olivia Gazis
Intelligence and National Security Reporter
CBS News

Bob Gourley
Co-Founder and CTO
OODA LLC

Eric Green
Non-Resident Scholar
Carnegie Endowment for International Peace

Lt Gen Michael Groen, USMC (Ret.)
Rachel Grunspan
IC AIM Director
Office of the Director of National Intelligence

Jason "Jay" Healey
Senior Research Scholar in the Faculty of International and Public Affairs; Adjunct Professor of International and Public Affairs
Columbia University
Erringer Helbling
Vice President, Federal
Altana AI

RDML Thomas Henderschedt, USN
Director, J2
U.S. Indo-Pacific Command

Daniel Hoffman
Consultant and National Security Analyst
Independent

Mark Honda
Chief Engineer of the Space Systems Integration Office
U.S. Space Force

John Kirchhofer
Chief of Staff
Defense Intelligence Agency

Lt Gen Leah Lauderback
Deputy Chief of Staff for Intelligence, Surveillance, Reconnaissance and Cyber Effects Operations
Headquarters U.S. Air Force/A2

The Honorable Ellen McCarthy
Chairwoman and CEO
Truth in Media Cooperative
Heather McMahon
Former Senior Defense Intelligence Executive

Danny McPherson
Executive Vice President, Engineering Operations, and Chief Security Officer
Verisign

Dr. Troy Meink
Principal Deputy Director
NRO

Sarah Mineiro
Senior Associate (Non-Resident)
Aerospace Security Project Center for Strategic and International Studies

Torsten Pilz
Senior Vice President & Chief Supply Chain Officer
Honeywell

Lakshmi Raman
Director of Artificial Intelligence Innovation
Central Intelligence Agency

Cynthia "Didi" Rapp
Principal, Former Senior National Intelligence Executive
CLR Context Consulting, LLC

Janet Rathod
Global Head of Cyber Threat Intelligence
Citi

Joseph Rouge
Deputy Director of Intelligence, Surveillance and Reconnaissance
U.S. Space Force
Senator Marco Rubio
Vice Chair
U.S. Senate Select Committee on Intelligence

Beth Sanner
Senior Fellow
Belfer Center for Science and International Affairs - Harvard University

Chad Sbragia
former Deputy Assistant Secretary of Defense for China
Research Staff Member, Institute for Defense Analyses

Teresa Shea
Senior Advisor to Global Public Sector
SandboxAQ

Lewis Shepherd
Senior Director for Research and Innovation, VMWare
AFCEA Intelligence Committee Chairman

Patrice Tibbs
Deputy Chief, Open Source Community Functional Management
Central Intelligence Agency

Aastha Verma
Chief, Cybersecurity Division, CISA
U.S. Department of Homeland Security

Jason Wang
Technical Director for Computer and Analytic Sciences Research Organization
National Security Agency

Senator Mark Warner
Chairman
U.S. Senate Select Committee on Intelligence
Tonya Wilkerson
Deputy Director
National Geospatial-Intelligence Agency

Andrew Winternitz
Principal Director, Europe and NATO Policy
Office of the Secretary of Defense
Put your Brand in front of Key Public and Private Sector Decision Makers!
Align your organization with the nation's premier unclassified event focused on critical national security challenges and opportunities. More than 1,500 public, private, and academic stakeholders regularly attend this two-day program focused on the effectiveness, transparency and accountability of our intelligence and national security communities.
Gain brand visibility with top public and private sector leaders
Build valuable relationships across the intelligence and national security community
Expand your footprint in emerging national security technology sectors
Raise your organization's profile as an industry thought leader
View available
sponsorships
and
exhibiting
opportunities!
00

Days

:

00

Hours

:

00

Minutes

:

00

Seconds
Connect with Us | #IntelSummit23
Follow AFCEA
Follow INSA